HINDI OCR- Text Recognition for Hindi Documents
HindiOCR converts printed Hindi texts into rich-text documents (RTF) in Devanagari-Unicode encoding. HindiOCR yields accurate results for a wide range of modern Hindi fonts without training, saving the time otherwise needed to type Devanagari texts.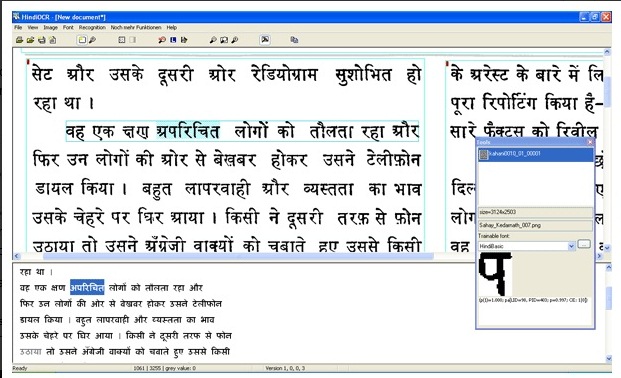 Key features of HindiOCR
Over 99% recognition accuracy on the character level in well printed documents.

Built-in classifiers for the 180 most popular Hindi-Devanagari letters and ligatures - no training necessary!

About 9 seconds per page on a standard desktop computer.

Unicode output in Devanagari.

Export of recognized text as Unicode-RTF.

Hindi lexicographic information for improved recognition results.

Training option for unusual and rare fonts.

Processes standard image formats (bmp, jpg, png, tiff, gif).

Works on Windows XP® and Windows 7®
It is available in two versions:
Standard and Professional
Additional features of the professional version:
Recognition speed about 20% higher than in the basic version
Batch recognition: Import large numbers of images, and have them recognized "at one go".
Batch export: Export all recognized text in one file.
Click Here to download the demo of Hindi OCR
In case of any query or pricing required please contact us