Readit Scholar HD's Features
Readit Scholar HD has many advanced features to help you read faster and with less effort than ever before.
Scholar HD camera is designed to be used in conjunction with the Readit software.
Fold flat design and fast to setup
Simply lift the Readit Scholar HD from its carry case, unfold the camera system and plug one USB 2.0 cable into your laptop or desktop computer and within seconds see the document you've placed under the camera read out aloud to you with scrolling text in your desired colour combination and size.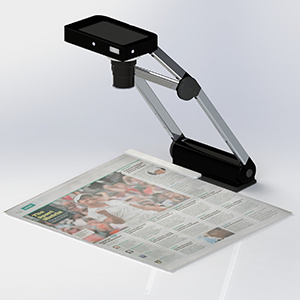 A3 (double letter) document capture
The Readit family are the only systems capable of capturing such large documents. For the first time, a standard size tabloid newspaper page can be captured in its entirety.
Image Stabilisation
The camera is optically and digitally stabilised (a first for our industry) meaning the Scholar HD is far less prone to shake and wobble than any other product on the market. The combination of the 16 MP sensor, 21x optical zoom, optical and digital stabilisation means it can perform OCR at distance (for whiteboards and projectors) further away than a human with 20:20 vision can see - this is a unique feature again.
High Quality 60 fps live view for closeup and distance
Readit Scholar HD features a high quality live view with up to 21x optical zoom which can be used for magnifying local or distance objects. 16 enchanced two colour combinations as well as full colour viewing are selectable, together with contrast enhancement for viewing even very faint documents such as receipts.
High speed document capture
Capture 20 pages per minute and begin reading as soon as the first has finished processing. This is many times faster than using a scanner based reading system.
Export your documents
Once a document has been captured with Readit Scholar HD, you can quickly and easily export it directly into Microsoft Word (or your preferred text-editor). The document is fully editable and preserves all the formatting, layout and images. This is ideal for making a large print copy of the document whilst preserving formatting.
Alternatively, you can simply export the text with only line breaks preserved. This is ideal for making a text-only large print version.
Glossy and crumpled document recognition
Documents inside plastic folder wallets, glossy magazines and even crumpled pages are recognised accurately thanks to the powerful Readit software.
Languages
Readit Scholar HD is available in most European languages. Please contact us for details.
Large book and round surface capturing
Thanks to its advanced software, Readit Scholar HD automatically straightens the spines of books for you - something which scanner based reading machines struggle with. It can also read labels on tins of food and even some prescription medicine bottles.
Local to distance viewing in an instant
Simply lift the camera up and turn it to your desired target. You can either view objects in the distance with a full live view or simply capture your entire target and then move the image around with your trackpad or mouse. Images remain crystal clear even after capture thanks to Readit Scholar HD's 16 megapixel resolution. This process greatly simplifies viewing of distant objects.
Readit Scholar HD's Included Accessories
Readit Scholar HD comes with the following accessories included as standard:
Comfortable over ear headphones with in line volume control.

Rucksack specifically chosen for carrying the Readit Scholar HD, up to a 15.6" screen laptop, other accessories and documents.
In case of any query or pricing required please contact us