LEX
Lex Features
Easy to set up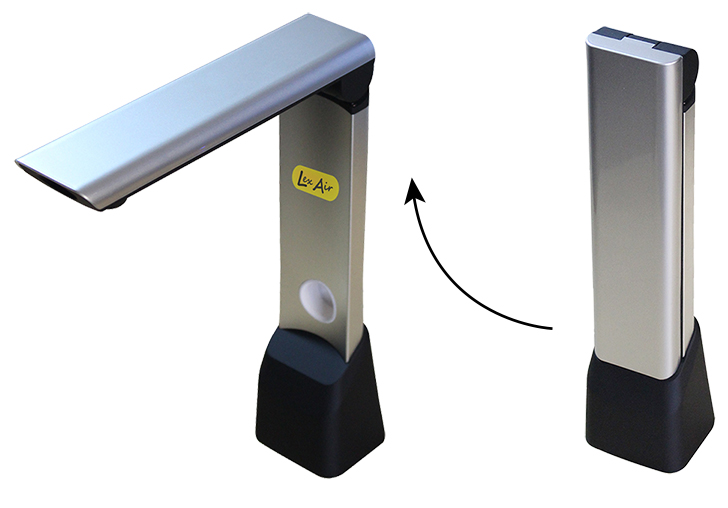 Lex is designed to be as fast and simple to set up and pack away as possible. Just lift the camera head up until it stops and plug in the integrated USB cable into your computer. To pack away, just do the same in reverse! It takes just 5 seconds.
Integrated right angled USB cable
In order to make Lex as fast to set up and pack away as possible, it ships with an integrated right angled USB cable which is safe to be left plugged in to LexCam at all times. This means you only need to connect one end to your computer when you wish to use it.

Speed
Capture documents at up to 20 pages per minute. Advanced motion detection algorithms in Lex's software ensure a clear image is captured every time.
Accuracy
Lex high resolution camera allows text down to 6pt in size to be accurately captured and recognised. This is extremely small text which is 25 to 30 percent smaller than newspaper print.
Depth of field
Lex has a very large depth of field (over 8cms). This means that even the thickest of books can be accurately captured, right into the spines. This is key difference when comparing it to a flatbed scanner where books often have to have their spines destroyed in order for them to be flat enough to be accurately scanned.
Versatility
Lex advanced camera allows extremely thick books to be photographed and read accurately, without the need to flatten them, damaging their spines.
What's more, due to the advanced Lex software, even round objects such as tins of food can be read aloud.
You can use Lex for reading:
Text books

Novels

Letters and post

Bank statements

Magazines

Newspapers

Tins of food

Product packaging

Product instructions

Recipes

Much more!
Size, Weight and Portability
Lex Air has a footprint of just 6.5 cm x 6.2 cm, meaning it can be placed onto even the smallest and most cramped of desk surfaces with ease.
Lex Air is also very lightweight, at just 500 grams, (1.1 lbs). It fits easily into most 15" laptop carry bags so you can take it with you anywhere you go.
Integrated lighting
Lex is optimised to take pictures without the need for additional lighting in most conditions. However, its adjustable integrated lighting allows the perfect picture to be taken even in poorly lit surroundings.
Easy to use
The Lex software has been designed to be as simple to operate as possible - with just a few keystrokes you perform all the main functions. The adjustable size easy access toolbars with clear, colourful icons give instant access to all the main controls.

Speech output of documents
Lex can instantly begin reading your document out loud at any point with a simple double-left click on your desired starting point. For many users, the speech output combined with the enhanced visualisations of the document make reading far easier.

Enhanced visualisations for reading
Lex features a total of 9 different colour enhanced or re-formatted modes to ensure the user can find the exact reading style that best suits their needs. These are:
1) Image View




This shows the original image of the document that can then be altered and enhanced. Image mode is most commonly used when a user has hand written documents where Lex is unable to recognise the handwriting so that it can be re-formatted. It's also ideal for looking at purely photographic documents. Image view contains four modes:

a) Colour

This is the original representation of the document where users can adjust the image saturation to enhance their document.

b) Tint

Subtly enhances the document with an effect that is directly comparable to the use of a coloured overlay.

c) Enhanced Greyscale

This is stronger than tint in that it actually replaces the colours of the document with your chosen two colour combination. For users who prefer reading text in a particular colour combination, this will likely be of benefit to them.

d) Binary

A variation on Enhanced Greyscale mode, Binary can help to bring out the user's document in their chosen two colour combination even if the document contains coloured backgrounds with similarly coloured text on top of them.

2) Overlay View




This unique mode allows you to retain your document layout and full colour images whilst fully enhancing the text. You can simply click on a word to start Lex reading your document to you from that point.

3) Column View




This view automatically wraps text across the screen depending on the user's chosen magnification level. The document can them be scrolled and read vertically.

4) Horizontal View




This view stretches all of your document's text into a single line, reducing potential confusion and interference that can be caused by multiple lines of text.

5) Vertical View




This view centres a single word on each line which can then be scrolled vertically. For certain users this can greatly increase their reading speed and comprehension.

6) Word View




This displays one word of text on screen at a time, in the middle. This view can be ideal for younger users or users with certain levels of dyslexia.

Variable Line Spacing
Users can easily adjust the space between lines of text in Column and Vertical Visualisations, to suit their visual preferences.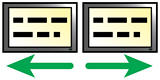 Instant Next and Previous Screen reading
Next and Previous screen allows instant navigation around your document one screen of text at a time with no scrolling or blurring of text. Just read what's on the screen and press the next screen button. No scrolling of text means less eye strain and faster and more comfortable reading!

Text highlighting
Three customisable text highlights are present- underline, rectangle and inverse.

Annotate documents
Lex's annotation feature allows users to quickly and easily add notes or comments to particular points in their document. This is ideal for creating revision notes to refer back to at a later date.

Bookmark documents
Place bookmarks in your documents to be able to navigate back to them immediately (e.g. for chapter headings in books).

Text search
Powerful text search functionality lets you navigate straight to any word or phrase in a document, saving time.

Edit Pages
Made a mistake in your document? Simply remove the page, re-order it, rotate it, re-recognise it or delete it with a simple to use "Pages" dialog.

Dictionary lookup
Lex features an integrated dictionary to allow instant lookup of words with fully accessible definitions, (currently UK / US only).

Speak punctuation
For users needing to hear all punctuation being read aloud, they can instantly enable "Speak punctutation". All forms of punctuation are then fully verbalised. Please note, this is for US and UK voices only at present.

Speech replacements
Easily correct the pronunciation of a word by editing it in the "Speech replacements" dialog. This is very useful for people and place names. The replacement dictionary can also be exported and imported to different computers.
Lex Included Accessories
Lex comes with the following accessories included as standard:
Comfortable over ear headphones for private listening with in-line volume control.

High contrast capturing mat for use with dark and highly reflective table surfaces.

USB extension cable for easy connection to a desktop PC.

Protective drawstring bag.
| | |
| --- | --- |
| | |
| Comfortable over ear headphones | High contrast capture mat |
| | |
| USB extension cable | Protective drawstring bag |
In case of any query or pricing required please contact us