ReadEasy+'s Features
ReadEasy+ lets you read more easily than ever before.
Easy to set up

ReadEasy+ is designed to be simple to set up and pack away. Just lift the camera head up until it stops and then pull it out. To pack away, just do the same in reverse!
Easy to use
With a specially designed tactile keypad, comprising just 6 buttons, ReadEasy+ is incredibly simple to operate: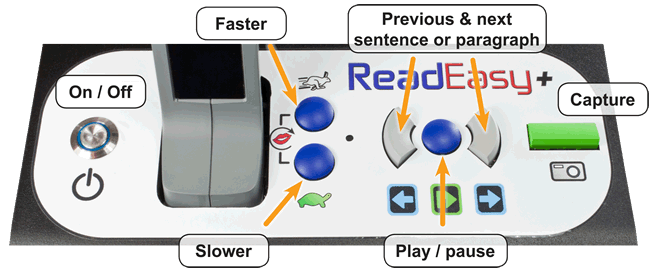 Versatility
ReadEasy+'s specially developed camera allows extremely thick books to be photographed and read accurately, without the need to flatten them, damaging their spines.
What's more, due to the advanced software used in the ReadEasy+, even round objects such as tins of food can be read aloud.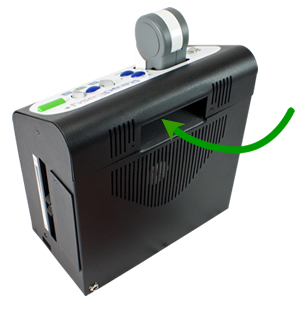 You can use ReadEasy+ for reading:
Letters and post
Bank statements
Books
Magazines
Newspapers
Tins of food
Product packaging
Product instructions
Recipes
Much more!
Size, Weight and Portability
ReadEasy+ has one of the smallest footprints of any reading machine. It occupies far less table space than previous scanner based systems - just 22 x 12 cm (8.6 x 4.7 inches).
ReadEasy+ is also the World's lightest free standing reading machine at just 2.45 kg, (5.4 lbs). Its easy to grip, integrated carry handle means it's so easy to move from room to room. Move it from the lounge to the kitchen to read your recipes as you cook. From the study to the bedroom, to listen in bed. As ReadEasy+ is so compact and lightweight, you can even take it on holiday with you!
Multiple Language Support with Auto Language Switching
ReadEasy+ is the first stand-alone reading system available with automatic language detection. It is highly intelligent and allows sentence-by-sentence switching making it the perfect tool for learning and reading in multiple languages.
In case of any query or pricing required please contact us